In today's sports world everyone is looking for their edge on the competition. The Athlete Training program is your way to gain an advantage. By using, meditation, yoga and mental training athletes can access the edge that will elevate their overall performance. The late Walter Payton stated that "the game is 80% mental and 20% physical." The greatest difference an athlete can make is getting an edge on "the mind field." Athlete training is designed to allow athletes to obtain a step up on "the mind field" and overall enhancing performance.
Sid Elite Training was developed by the former football coach and legendary Yogi and Mentor, Sid McNairy. The Sid Elite™ Training is for High School, Collegiate and Pro teams focusing on protecting and strengthening athletes function and form in their support, and providing increased flexibility, mental focus, speed, strength and elevated lifestyle.
Athlete Training Focuses On

Creating Structural Stability through particular attention to alignment principles. This focus increases the athlete's ability to gain ground, improve efficiency of movement, and build stability in the body — especially in the knees.
Developing a Foundation for a regimen to support mental toughness, strength, and agility.
Athlete Preparation and Athlete Recovery by creating the appropriate amount of heat, enabling the body to recover in heated conditions.
Mind Field Training is often the most overlooked part of an athlete's or team's preparation. Mind field training consists of mental empowerment training for athletes. We dive into several aspects of the mind field to enhance the overall performance of an athlete and a team. 80 percent of all athletic achievements are mental and 20 percent physical, this is the space for greatest elevation in personal and team success.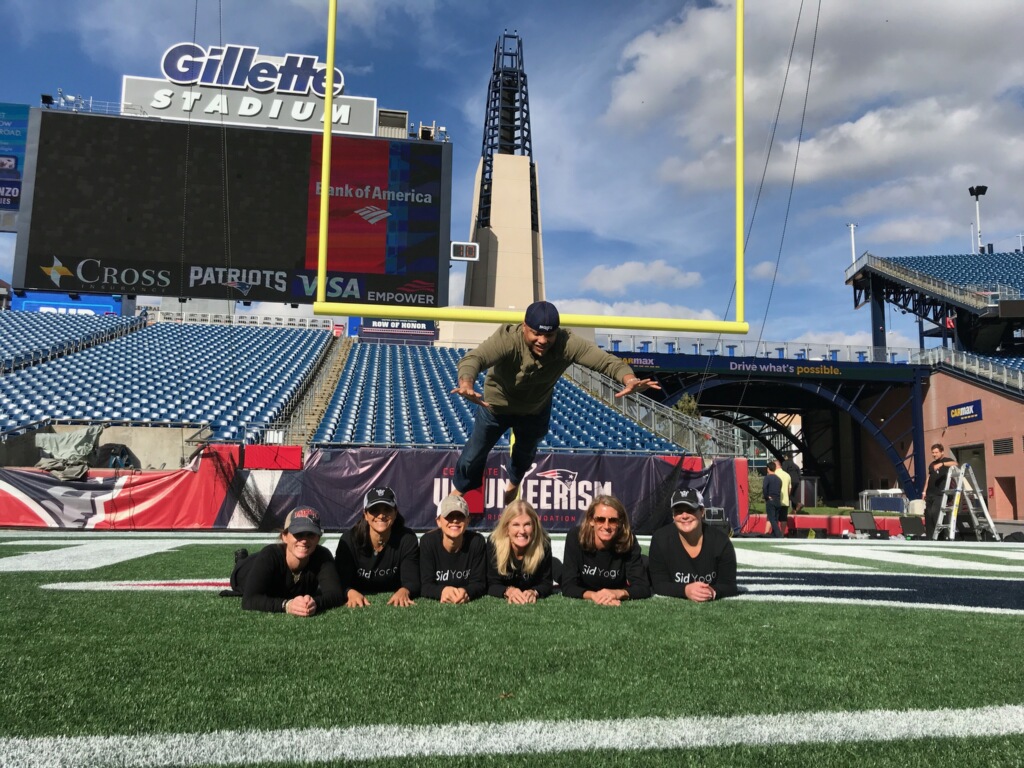 What are Training Days

Our style is inclusive. Sid Elite Yoga postures are used for the athlete's benefit, and enhance longevity for football, basketball, gymnastics and other athletics.
We understand the stresses put on the body during play, and our environment is designed to increase flexibility, mental focus, speed, strength and assist recovery. We use heat to help elevate each training. Our heat is appropriate for the enhancement of sustaining power and movement throughout a game. By avoiding extreme heat, we create a space that keeps players from experiencing dehydration and cramping when they return to the field.
Bill Belichick
Coach Sid in 2017 with head coach of the New England Patriots and founder of The Bill Belichick Foundation.
Rick Smith
Coach Sid in 2017 with Rick a partnership for life. Creating the culture of champions. Executive Vice President / General Manager of the Houston Texans.
Ryan Diem
NFL Offensive Lineman, Indianapolis Colts.
"Having known Coach McNairy since the beginning of his career, I have had a chance to witness how he has inspired people to achieve the next level in their athletic endeavors. In my 10+ years as an NFL player I understand the benefit of having a complete program for continued longevity. Flexibility and staying mentally sharp are major contributors to my ability to continue to excel as a successful NFL player. Coach McNairy can help all players reach new heights and excel as elite athletes."
Justin McCareins
NFL Wide Receiver who played for the New York Jets and Tennessee Titans. Currently a free agent. Played for Coach McNairy at Northern Illinois, and became the catalyst for Sid Elite Training.
"It is no surprise that Sid Yoga has emerged as a success in a variety of arenas. From an athletic standpoint, Sid's program has contributed to my ability to perform at the highest level."
Cliff Louis
Offensive Tackle for the Cleveland Gladiators of the Arena Football League and former member of the Cleveland Browns, Jacksonville Jaguars, New York Giants, Florida Tuskers, Arizona Cardinals, Edmonton Eskimos, Detroit Lions, and the Dallas Cowboys. Increased speed from 5.1 to 4.83 while playing for Coach McNairy at Morgan State University.
"I never thought I would have liked Yoga. But after Sid's workshop in Cleveland, I was hooked. It was so hard, but so worth it. The calming that you feel when you leave a session is amazing. I have adopted many of the theories that were projected through the session to my everyday life. And would definitely advise anyone to just try it out. You won't be disappointed."
Derrell "Dash" Poland
Performance Athlete, Improved speed from 4.5 to 4.40 while playing football for Coach McNairy at Morgan State University.
"The ability to keep my muscles long and loose is what allows stronger and faster muscle contractions, which generate my fast and explosive movements. Yoga with Sid Elite Training is the best way to continuously lengthen each and every one of my muscle fibers, new and old."
Vishanthe Shiancoe
NFL Tight End for the Minnesota Vikings. Also played for the New York Giants. Increased speed from 4.60 to 4.44 while playing for Coach McNairy at Morgan State University.